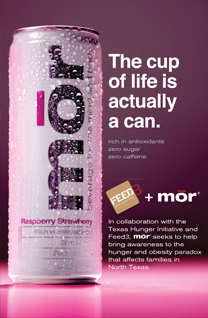 Innovative healthy energy drink benefits FEED3.
The Hunger and Obesity Paradox. For many households, the lack of money can contribute to both hunger and obesity. This apparent paradox is driven in part by the economics of buying food.
Stretching Food Dollars: Research indicates that the quality or variety of food consumed is often compromised before the quantity of food eaten.

Food Availability: Lower income neighborhoods lack access to healthier foods. The five zip codes in Dallas County with the lowest disposable income also had the least number of major chain grocery stores.

Overeating: Recent research has shown that food deprivation in humans and
food restriction in children produces a tendency toward binge eating behaviors.

Physiological changes: can occur in the body as a result of periods of hunger
and consumption of foods low in nutritional value.

Less Opportunities for Physical Activity: Low income neighborhoods have few safe or attractive places to play. Open space—parks, sidewalks, gardens and fields are at a minimum and recreational facilities are inadequate.

What is MOR?
Lightly carbonated and naturally fruit flavored, is a new, deliciously refreshing, vitamin,
mineral, electrolyte and herbal enhanced, low-calorie sparkling water. mor offers a clear
alternative to flavored and functional waters, energy drinks, regular and diet sodas.
Each MOR drink contains grape seed, milk thistle, ginger, gingko, ginseng, acai, vitamin b6, vitamin b12, selenium and electrolytes. There are three tasty flavors: Raspberry Strawberry, Cranberry and Pomegranate Lemon. They are served in 12 ounch cans and packed 24 per case. Each case cost $38 plus $12 shipping. MOR is generously donating 10% of every sale to FEED3.